Golden Gate Wrestling Club is open to anyone over the age of 5 with an interest in FreeStyle, GRECO, Scholastic, and Grappling. This includes men and women at all skill levels. Height, weight, gender, race, age, disability, and intelligence can be mixed in any proportion to produce good wrestlers — and good coaches!

Beginners are encouraged to join, and you are welcome to come just to watch. Workouts are friendly and physical, grouped by size and skill level for safety.


Feel free to contact us with any questions.

High school wrestlers in San Francisco may join GGWC's Alliance Wrestling program to learn freestyle skills to enhance their Scholastic folkstyle wrestling.

Learn about:
Alliance Wrestling
Our staff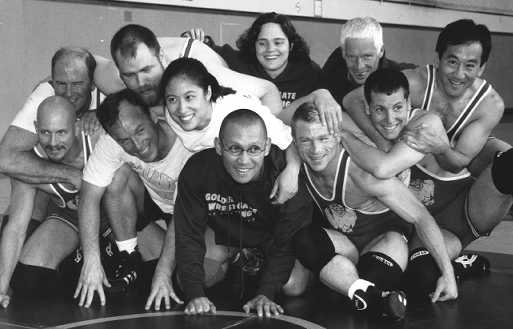 Due to insurance requirements, you must comply with the following requirements before getting on the mat:
+ Hold a current USAW competitors card, purchased online for $50 at www.usawmembership.com. Cards are valid September through the following August.
+ Fill out and sign a club waiver and membership application form
+ for GGWC ADULTS: information for first practice
+ for Alliance High School Wrestlers: information for first practice
+ for Camp Grappling Kids Program: information for first practice
+ Be in good/decent physical shape
+ Make the coaching staff aware of any chronic injuries or physical limitations you may have
+ Wear appropriate clothing for a workout: mat shoes, singlet or shorts, and T-shirt
FEES:
Annual membership includes the following:
+ GGWC Rash Guard type T-shirt
+ Supplemental medical/liability insurance (supplied by USA Wrestling competitor card)
+ discounts on workout wear and safety gear
+ instruction from a variety of qualified USA Wrestling bronze certified coaches.
USA Wrestling card coverage must be paid before you are allowed to step on the mat
Club Dues of $60(adults) must be paid by the 3rd practice day in order to become a full member of
the club.

Get your 2010-11 USAW card and establish a membership login

1. Go to the USA Wrestling's Athlete Membership site, create an account, and purchase a membership with a credit card for $50. When filling out the information, choose "Bay Area Wrestling Association" for the local association and "Athlete Membership - BAWA" for Membership Type . For club, select "GOLDEN GATE WRESTLING CLUB – (CA-Q02)."
2. After you have bought the membership, print out a copy of the membership card.
3. Store your username/password in a safe place! You will need it to long on again in the future, such as when you renew your card.

4. Email the coaches your CA-USAW# to: info@history.ggwc.org . Also, if necessary, send any updated contact information (address, home and cell phone numbers).

5. Show your membership card at your first practice.
Coaches will be verifying that you are insured.